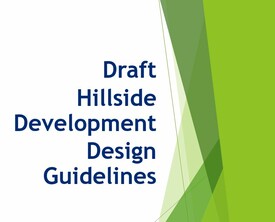 Status: In development
Timeline:
To address the unique challenges that hillside developments face and their impact on the landscape, In March 2019, Council identified the creation of hillside Development Standards as a strategic priority for the Village. The Draft Hillside Development Design Guidelines were presented to the Committee of the Whole on Tuesday November 5th.
The Guidelines are intended for use by developers, designers, builders and Staff to define the intent and purpose of hillside development in Pemberton and are not intended to be regulatory. They are to be considered with development and subdivision applications in hillside areas at pre-application meetings. They will also be made available to the general public. The guidelines are structured to encourage innovation and flexibility; designers are encouraged to prepare the most appropriate design given the unique characteristics of the site.
The Guidelines were prepared with the following Vision and Goals for future hillside developments in Pemberton.
Vision: Hillside developments will be environmentally sensitive, functionally appropriate, aesthetically pleasing, and economically feasible.
Goals:
Complement the scenic hillside character of Pemberton
Screen visual impact and minimize unsightly cut and fill
Integrate unique natural features
Avoid development on unstable or hazardous sites and prevent potential rockfall hazards
Protect environmentally sensitive ecosystems and habitats
Preserve and enhance access to trails and outdoor recreation
Protect wildlife habitat, wildlife corridors and other environmental values
Manage storm run-off and limit erosion hydrology
In terms of structure the guidelines are organized into three main over arching categories:
Site and subdivision Design;
the natural environments; and
works and services.
Within each category or sub category there are objectives and design guidelines. The objectives are considered goals for the designer to work towards. Not all of the objectives across all the categories can be equally or simultaneously attained, but it is about finding a balance between them based on the site specific context. Design guidelines offer suggestions how to achieve those objectives.
The Village of Pemberton is collecting community feedback on The Draft Hillside Development Design Guidelines, after reviewing the document please take our survey.
Related Documents
Draft Guidelines Feedback Questionnaire
View Staff Presentation on the Draft Hillside Development Design Guidelines
(November 5, 2019 Council Meeting)