Downtown Enhancement Project Begins March 26, 2019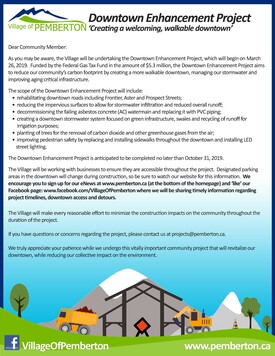 the Village will be undertaking the Downtown Enhancement Project, which will begin on March 26, 2019.
Funded by the Federal Gas Tax Fund in the amount of $5.3 million, the Village's Downtown Enhancement Project aims to reduce our community's carbon footprint by creating a more walkable downtown, managing our stormwater and improving aging critical infrastructure.
The scope of the Downtown Enhancement Project will include:
rehabilitating downtown roads including portions of Frontier, Aster and Prospect Streets;
reducing the impervious surfaces to allow for stormwater infiltration and reduced overall runoff;
decommissioning the failing asbestos concrete (AC) watermain and replacing it with PVC piping;
creating a downtown stormwater system focused on green infrastructure, such as infiltration;
swales and recycling of runoff for irrigation purposes;
planting of trees for the removal of carbon dioxide and other greenhouse gases from the air;
improving pedestrian safety by installing LED street lighting; and
replacing and installing sidewalks throughout the project area.
The Downtown Enhancement Project is anticipated to be completed in the Fall.
View Downtown Enhancement Concept
View Downtown Enhancement Timeline
View Downtown Enhancement Information Sheet