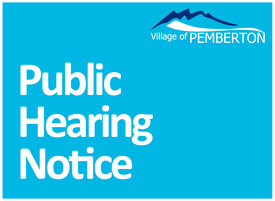 Village of Pemberton Public Hearing Notice
Zoning Amendment Bylaw No. 948, 2023
Tuesday, September 12, 2023 at 5:30pm in-person at Council Chambers or Virtual (Zoom Webinar ID: 840 0997 7920)
What is Zoning Amendment Comprehensive Development Zone 7 (Prospect Apartments) Bylaw No. 948, 2023 about?
The bylaw has been prepared to amend the Zoning Bylaw No. 832, 2018 to support the development of a mixed-use residential building submitted by STARK, Agent for the landowner 1268913 BC Ltd. (Fitzgerald Building Co.). The amendment proposes the creation of a new Comprehensive Development (CD) Zone, CD-7: Prospect Apartments, and amends the Zoning map for the subject parcel from C-1 (Commercial, Town Centre) to CD-7. The proposed four (4) storey mixed-use building would include: 1,000 m2 of commercial space on the ground floor; Forty-five (45) residential units on the 2nd to 4th floors; Unit mix of studio, 1 bedroom, and two-bedroom units; Fifty-four (54) secure electric vehicle (EV) ready underground parking stalls; and Ninety (90) Class A bike stalls.
How do I get more information?
A copy of the proposed bylaws and relevant background documents may be inspected at the Village of Pemberton Office, 7400 Prospect Street from Tuesday, August 29th, 2023 to Tuesday, September 12, 2023 during the office hours of 9:00am to 4:00pm (closed noon-1:00pm), Monday through Friday (statutory holidays excluded), and also online at www.pemberton.ca/departments/development-services/asterprospect
How do I provide feedback?
All persons, who believe their interest in the property is affected by the proposed Bylaw, shall be given a reasonable opportunity to be heard by Council at the Public Hearing. Written comments must be addressed to "Mayor and Council" and may be submitted at the Public Hearing or through one of the following methods prior to the Public Hearing (by noon on Monday September 11):
Email: admin@pemberton.ca
Fax: 604.894.6136
Mail: Corporate & Legislative Services, Village of Pemberton, P.O. Box 100, Pemberton, BC, VON 2L0 In Person: Corporate & Legislative Service Department, 7400 Prospect Street, Pemberton BC
Submissions received for the proposed Bylaw before 12:00pm on Tuesday, September 5 will be included in the Public Hearing information package for Council's consideration. This information
1 package will also be available on the Village website at www.pemberton.ca. Submissions received after 12:00pm on Tuesday, September 5 will be presented to Council at the Public Hearing. At the conclusion of the Public Hearing, no further information on this topic can be considered by Council.
Ethan Fredeen, Corporate Officer