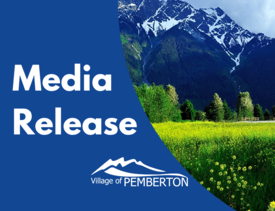 Pemberton, BC — In the interest of gaining and acknowledging the Líl̓wat Nation's perspective relating to the Village of Pemberton's Official Community Plan (OCP), the Village is pausing its OCP review process. During this time, the Village will be focusing on building a deeper and more meaningful relationship with the Líl̓wat Nation through a renewed protocol agreement along with a better understanding of the United Nations Declaration on the Rights of Indigenous Peoples (UNDRIP).
"The decision to pause the OCP was made after careful consideration of feedback we received regarding the existing protocol agreement and determined it to be the best course of action to demonstrate a genuine commitment towards establishing a trust-based relationship with the Líl̓wat Nation," says Mike Richman, Village of Pemberton Mayor. "We recognize the importance of ensuring our OCP encompasses and speaks to the shared values, visions, and priorities of all community members. To do so, we need to update the existing protocol agreement along with deepening our understanding of UNDRIP and how it can be implemented to create a path forward that is rooted in respect, understanding, and shared goals."
"The Líl̓wat Nation looks forward to continuing to build our relationship with the Village of Pemberton and update our Protocol Agreement," says Chief Dean Nelson, Líl̓wat Nation. "This builds on the good work completed through our shared services such as water and fire, as well as Pemberton Valley Emergency Management Committee, Nuk̓w7ántwal̓ Intergovernmental Committee, Transit Committee and others."
Adopted by Canada in 2020, UNDRIP is an international framework that emphasizes Indigenous rights, including self-determination, cultural preservation, and protection from discrimination and exploitation. Recognizing its significance, the learnings from understanding this framework will serve as a foundation for revising the protocol agreement between the Village of Pemberton and the Líl̓wat Nation to reflect the shared aspirations, values, and priorities of everyone involved. 
"By taking this pause, our teams can devote time into fostering a more profound and collaborative relationship with the Líl̓wat Nation," says Elizabeth Tracy, Village of Pemberton Chief Administrative Officer. "This is an important step in moving away from past traditions and towards more meaningful processes that drive transformative change and help us work together in partnership to build a brighter future for everyone." 
The Village would like to extend its sincere gratitude to the community for contributing invaluable feedback during the OCP review process. The insights and feedback provided by community members on the OCP up to this point remains a crucial part of the review process and will be preserved until the project resumes. During this pause, community members are invited to stay up to date and continue to share feedback on the OCP project page at haveyoursay.pemberton.ca.   
-30-
About the Village of Pemberton
Incorporated in 1956, the Village of Pemberton spans approximately six square kilometres and is home to over 3400 residents and a vibrant business and agricultural community. Servicing as a municipal government, the Village of Pemberton is led by an elected Council and managed by an executive team responsible for various municipal services including, planning and development, park operations, recreation facilities and amenities, public utilities, bylaws and enforcement, fire rescue, emergency preparedness, fiscal planning and financial services, legislative services, human resources, communications, and the administration of the Pemberton's Official Community Plan.
About Pemberton, British Columbia
Located in the Coast Mountain range of British Columbia below the rugged peak of Mount Currie, Pemberton is known for its access to outdoor recreation and stunning mountain vistas. Situated on the unceded traditional territory of the Líl̓wat Nation, Pemberton honours the language, culture and history of the Lil̓wat7ul. Pemberton offers residents and visitors an authentic mountain culture with easy access to outdoor recreation including extensive hiking and biking trails and year-round backcountry adventure as well as local lodging, shopping, dining and arts and culture. 
Media Contact
Michelle Fernandes
Communications and Engagement Advisor
Village of Pemberton
Email: communications@pemberton.ca 
Phone: 604-815-9672