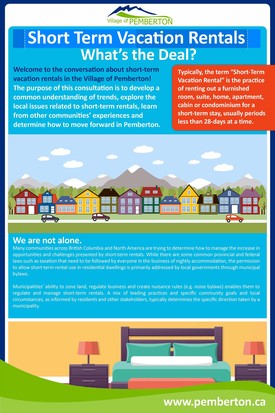 Did you miss the Community Session on Short Term Vacation Rentals?  Not to worry!  Here's how you can Have Your Say:
1.  Read the below Short Term Rental Briefings
Current Situation Briefing
Practices Briefing
3. Come to the Committee of the Whole Meeting on July 25th at 1pm
Presentation to the Committee will include information presented at the Community Session.  
4. Participate in upcoming meetings related to the Zoning Bylaw Update in the Fall.   
Download the Short Term Vacation Rentals Meeting Slideshow