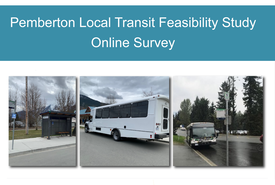 The Squamish-Lillooet Regional District, in partnership with the Village of Pemberton and Lil'wat Nation, is conducting a study to determine the effectiveness of the transit system in serving the residents of these three communities. The objective of this project is to understand how to effectively and equitably use existing resources to maximize the transit options available in the Pemberton Valley.
Get Involved
The project team is currently collecting information on transportation needs and opportunities through an online survey. Ideas and outcomes from the survey will be summarized and used to develop potential options for service improvements. The survey will be online for a period of two weeks from 04/14/2021 to 04/28/2021. To access the survey, visit Pemberton Local Transit Feasibility Study - Online Survey.
Thank you for your participation.
Your feedback is greatly appreciated!