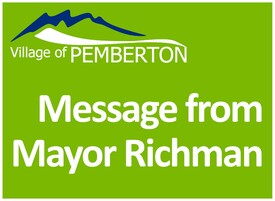 Right now most people have heard that Whistler has been approved for mass vaccination and that Pemberton residents who work in Whistler are included within that. This was a decision by the health authority in order to stop the community transmission that we were seeing in this area. This is wonderful news for our region!
I am receiving a large volume of emails asking why all of Pemberton has not been included in this considering our close ties and all the other obvious reasons.
I want to let everybody know I spent much of last week lobbying to have Pemberton included in this mass vaccination. As many people have pointed out, with employees being vaccinated it wouldn't take much more to do all of our community. I have been very, very strong in delivering this message and am continuing to do so.
On a positive note, they just have increased the eligibility age range for vaccinations in Pemberton and are accelerating the pace. This is great, however, I will continue to advocate to the Vancouver Coastal Health authority and the provincial government to include us in the mass vaccination plan. In the meantime stay safe everyone!