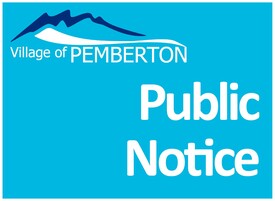 The Village of Pemberton is seeking a volunteer for the Board of Variance.
Board of Variance: Three (3) Year Term - 2021/2022/2023 One (1) seat vacancy.
The Board of Variance is an independent body that considers variances to Village of Pemberton Zoning Bylaw 832, 2018. The Board has the authority to grant variances in situations where compliance with the Zoning Bylaw would cause undue hardship.
For application forms and details, please see the Board Member Application, visit the Board of Variance page or contact Village of Pemberton Development Services by email at developmentservices@pemberton.ca.
Applications must be received by 4pm on Wednesday, April 21st. Selections will be made at a future Council meeting in 2021.