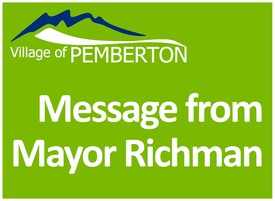 Remembrance Day is my most treasured community gathering. It is a solemn ceremony as we pay tribute to all those who served for Canada and for the many who lost their lives in conflicts around the world. There is something reaffirming, uniting and powerful about the energy as hundreds silently come together in Pemberton to remember and honour the sacrifices made. 
I will miss that this year along with the wonderful lunch and social gathering that follows! 
Our new public health orders have come at a time when folks are already fatigued from the measures we have been taking since March and the thought of further restricting our social interactions has got many of us feeling down. Understandably so.
It is more important than ever that we carry on keeping our bubbles tight, wearing masks in businesses and public spaces and supporting each other. We have remained so strong through all of this and it is time again to draw on that community strength and continue to find any means possible to come together.  
On November 11th let us summon that solemn yet uplifting community energy that comes with Remembrance Day. We are still in this together and we will get through this together.
Lest we forget. 
All the best Pemberton, be kind to each other.
Mike.
Remembrance Day service is being held tomorrow and available online via the Pemberton Legion's Facebook page at https://www.facebook.com/groups/295293427149073