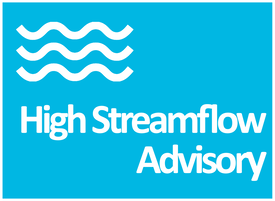 As of 1:30pm, Sunday, January 9th, the River Forecast Centre is issuing a High Streamflow Advisory for the South Coast including:
The public is advised to stay clear of the fast-flowing rivers and potentially unstable riverbanks during the high-streamflow period.
A significant weather pattern change will occur this week. Temperatures are forecast to increase considerably compared to the recent extended cold weather and snowfalls. Additionally, moderate to heavy rainfall is expected for Tuesday and Wednesday (January 11-12). The combination of low elevation snowpack, warming temperatures and heavy rainfall will result in rapid rises for creeks and rivers, especially at low and mid-elevation watersheds on the coast. It could result in minor to significant flooding. Rivers are expected to begin increasing on Tuesday and likely peak Wednesday or Thursday. The storms are still several days away, so the exact location and intensity of heaviest rainfall is still uncertain. Areas that experienced flooding last year may have added vulnerabilities due to erosion and higher baseflow conditions.
The upcoming temperatures are not forecast to be as warm as the atmospheric river events in November. It's likely the upcoming storm systems will add to the very well-developed snowpack at the higher elevations.
Details of the COFFEE and CLEVER Model forecasts can be found at:
The River Forecast Centre continues to monitor the conditions and will provide updates as conditions warrant.