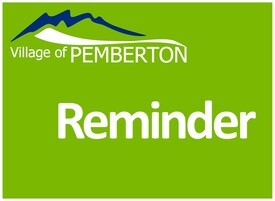 Don't Forget to purchase your dog licence and renew your business licence before January 31.
Early Bird Dog Licence Fees
Unneutered Male/Unspayed Female   $65 (save $20)
Neutered Male/Spayed Female   $25 (save $15)
Dog licenses can be purchased at the Village office or Whiskers Pet Shop (7445 Frontier Street).
Business Licence Renewals
Renew your business licence before January 31 to avoid a late fee. A 25% late fee applies to business licence renewals after January 31.
Online Payments
The Village is now accepting online credit card payments. Visit OptionPay to pay online.
Visit Licences and Permits for licence types and fees or to complete an application.
For more information, email admin@pemberton.ca.