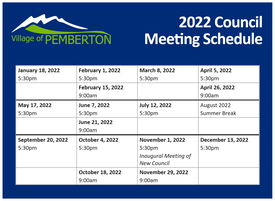 The 2022 Village of Pemberton Council Meeting Schedule is now available. Please click on the image above to view meeting dates and times.
Council meetings are held in Council Chambers located at 7400 Prospect Street and via Zoom unless otherwise posted. To view meeting agendas and minutes, visit
Notice of the 2022 Council Meeting Dates is given in accordance with section 94 and
section 127 of the Community Charter.
Please note: Committee of the Whole and In Camera meetings will be scheduled as
required.
Sheena Fraser, Corporate Officer.