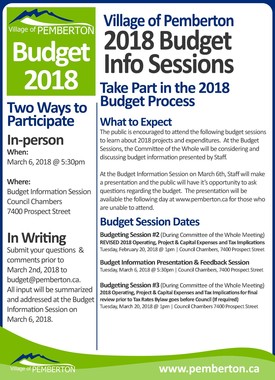 2018 budget planning is now underway, which will set out municipal spending for 2018.  Using the Village's Strategic Priorities, Council will review departmental budgets and determine if or how those budget line items are funded.
To stay on top of the process by visiting the 2018 Budgeting Process Page.
What to Expect
The public is encouraged to attend the following budget sessions to learn about 2018 projects and expenditures. At the Budget Sessions, the Committee of the Whole will be considering and discussing budget information presented by Staff.
At the Budget Information Session on March 6th, Staff will make a presentation and the public will have it's opportunity to ask questions regarding the budget. The presentation will be available the following day at www.pemberton.ca for those who are unable to attend.
Budget Session Dates
Budgeting Session #2 (During Committee of the Whole Meeting)
REVISED 2018 Operating, Project & Capital Expenses and Tax Implications
Tuesday, February 20, 2018@ 1pm I Council Chambers, 7400 Prospect Street
Budget lnformation Presentation & Feedback Session
Tuesday, March 6, 2018@ 5:30pm I Council Chambers, 7400 Prospect Street
Budgeting Session #3 (During Committee of the Whole Meeting)
2018 Operating, Project & Capital Expenses and Tax Implications for final review prior to Tax Rates Bylaw goes before Council (If required)
Tuesday, March 20, 2018@ 1pm I Council Chambers 7400 Prospect Street