2018 Budget Process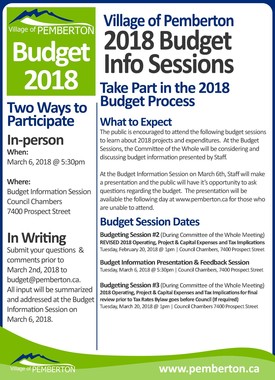 2018 budget planning is now underway, which will set out municipal spending for 2018.  Using the Village's Strategic Priorities, Council will review departmental budgets and determine if or how those  budget line items are funded.
Village of Pemberton residents and stakeholders are an important part of this process!  Here's how you can take part:
Attend the Committee of the Whole Budget Sessions (Tuesday, February 20th @ 1pm | Tuesday, March 20th @ 1pm)
Review Committee of the Whole Minutes from Tuesday, February 20th and Tuesday, March 20th
Send your questions or comments any time to budget@pemberton.ca during the budget planning process (February 20th-March 6th). These comments will be shared with Council and considered during decision-making
Attend the Budget Information Presentation & Feedback Session on Tuesday, March 6, 2018 @ 5:30pm. A question and answer period will follow after presentation of the  budget Staff report.
Budget Documents