PEMBERTON REGIONAL AIRPORT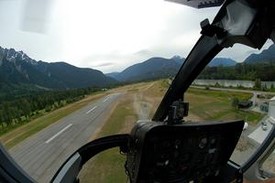 FLYING INTO CYPS-PEMBERTON
AIRPORT INFORMATION: (604) 894-6135
Village of Pemberton Airport Establishment, Operations and Fees Bylaw
The Pemberton Airport has over 400 landings a year with most of the volume occurring in August. Users are typically fire and rescue vehicles, commercial activity companies, gliders, local aircraft and helicopter companies.

The Pemberton Airport accepts fixed wing and rotocraft vehicles. There is currently limited fuel services available. There are no lights towers or navigational assistance.
The airport includes a Pilots Room, located inside the Terminal Building.  Hours of operation are 8am to 5pm.
Read more about flying into CYPS-Pemberton.