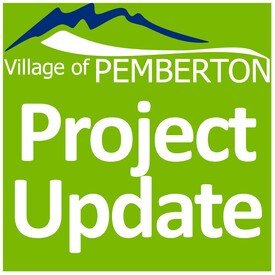 The Village of Pemberton is seeking a loan to cover any unforeseen overages of the Downtown Enhancement Project ($880,000) and to expand AND pave the existing parking lot beside the Downtown Community Barn ($100,000).
The contingency portion of the loan will cover any unexpected project overages of the Downtown Enhancement Project. As an example, some unexpected project costs to date have included the removal of hydrocarbon soils, undocumented waterlines, and the replacement of other unrelated infrastructure within the project limits. Fortunately, the project has realized efficiencies in other areas, which have helped cover these unexpected costs to date.
It should be noted that contingency has always been part of the budget.
As seen below, the $6.8 million-dollar project will be funded by Federal Gas Tax Funds, Village Reserves (this is money set aside on a yearly basis for road improvements) and the contingency loan. The contingency loan would be for up to $880,000 and will only be used if required.
Hazelwood Construction Services Inc. $5,870,858
Engineering & Contingency (15%) $880,628
Barn Parking Lot Expansion and Paving $100,000
Total Cost $6,851,486
Federal Gas Tax Funding $5,323,604
Village Reserves $547,882
Total Committed Funding $5,871,486
Total Borrowing (if needed) $980,000
In summary, Village tax payers are receiving the benefit of a $6.8 million-dollar project for an investment of up to $1.5 million dollars. The $1.5 million dollars is assuming the use of the entire $880,000 contingency.
The expansion and paving of the parking lot was determined to be a priority to better facilitate parking at the barn, as well as provide parking for future enhancements for Lot 8 (located beside the Barn parking lot), a Village-owned parcel that is zoned as a P-1. Potential future uses of this area include a park or community facility; all uses that would require additional parking. Further, as per the Village's Zoning Bylaw, parking lots are required to be paved.
In order to borrow funds over a period longer than five (5) years, Municipalities are required to seek approval of the electorate through an Alternative Approval Process (AAP) or assent of the electorate by Referendum. Should the AAP not be supported, the Village would borrow funds from a lender for five years.
Lastly, it should be noted that these enhancements are not just aesthetic in nature. The majority of this project is focused on replacing the Village's aging water infrastructure and installing a storm water management system that will help us better divert storm water during rainfall and highwater events. Road and sidewalk improvements are a bi-product of the underground works, although they are very needed and a requirement of the grant funding to make the community more walkable and create a less vehicle dependent community.
Questions?
We want to hear from you! If you have further questions about the Alternative Approval Process, contact Sheena Fraser at sfraser@pemberton.ca.