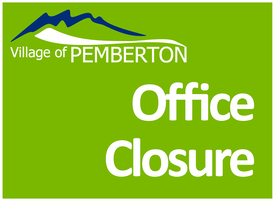 Please note: The Village Office will be open by appointment only from Monday, December 20 to Thursday, December 23, 2021.
To make an appointment, contact the relevant department listed below and a team member will contact you. Mail can be posted in the mail slot next to the front door.
Finance/Taxes/Utilities:
accounting@pemberton.ca
Planning/Building:
developmentservices@pemberton.ca
604-894-6135 x 249
Bus Passes/Dog Registrations:
604-894-6135
All other queries:
admin@pemberton.ca
The office will be closed for the holidays from Friday, December 24, 2021 to Monday, January 3, 2022.
Thank you for your understanding.