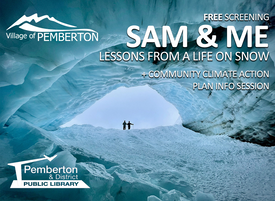 DUE TO THE CURRENT PROVINCIAL RESTRICTIONS IN EFFECT, THIS EVENT HAS BEEN POSTPONED.
Stay tuned for more details coming soon.

Join Village of Pemberton Staff for a special screening of Switchback Entertainment's Sam & Me - Lessons From a Life on Snow.
Learn about the Village's Community Climate Action Plan and find out how you can help reduce Pemberton's impact.
Thursday, January 20, 2022 | 6:30pm
Pemberton and District Library
7390a Cottonwood St, Pemberton
Registration is essential. Register here!
Please note: Proof of Vaccination is required to attend this event. Masks are mandatory for anyone aged 5+.