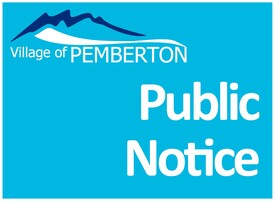 TO: MAY LEE, FRANK HORVATH & LIDIA PATELLA
TAKE NOTICE THAT on September 27, 2021 the property described below was sold for unpaid taxes. Pursuant to section 657 of the Local Government Act, the Village of Pemberton hereby gives you notice that you may redeem the property on or before September 27, 2022. TAKE FURTHER NOTICE that the BC Supreme Court, in registry file VLC-S-S-2111168 and on December 23, 2021, ordered that the Village of Pemberton may serve this notice on you substitutionally through this publication. You may access a copy of this order directly from the Supreme Court registry at 800 Smithe Street, Vancouver, BC, V6Z 2E1, through Court Services Online, or by contacting the Village of Pemberton by clicking here.               
Description of Property

Legal Description:

Lot 3 Plan KAP12807 District Lot 203 Land District 27 LIES TO E OF E BOUNDARY OF PL CG 253, PID: 009-378-570;

AND

Lot 7 Plan KAP12595 District Lot 203 Land District 27, PID: 009-500-651

Tax Folios:

560.00341.200

560.00346.070
Please contact Jeanette Einarson at the Village of Pemberton at jeinarson@pemberton.ca or 604-894-6135 x222 for more information.