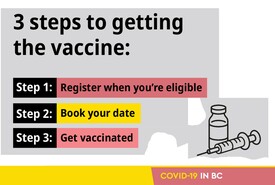 People aged 65+ and Indigenous peoples 18+ can now register for their vaccine appointment online, by phone, or in person.
There are three steps to get vaccinated:
Step 1: Register
First, you register and get a confirmation number. You need that number to later book your vaccination appointment.
Registering also helps health authorities request the right amount of vaccine doses for each community.
Step 2: Book an appointment
You will be contacted to book a vaccine appointment when you are eligible based on your age and our Immunization Plan phases. 
You will book your appointment online or by phone. You will select a location, date and time.
Step 3: Get the vaccine
Visit the vaccine clinic to get your vaccine dose.
People who get their first vaccine dose will be notified by email, text or phone call when they are eligible to book an appointment for their second dose.
Please only register if it's your turn!
Learn more: gov.bc.ca/getvaccinated