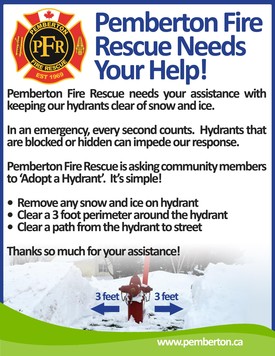 Pemberton Fire Rescue needs your assistance with keeping our hydrants clear of snow and ice.
In an emergency, every second counts. Hydrants that are blocked or hidden can impede our response.
Pemberton Fire Rescue is asking community members to 'Adopt a Hydrant'.
It's simple!
Remove any snow and ice on hydrant
Clear a 3 foot perimeter around the hydrant
Clear a path from the hydrant to street Thanks so much for your assistance!