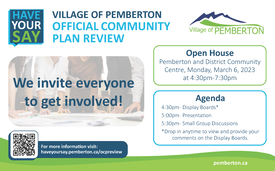 Join us for the Official Community Plan (OCP) Community Open House on Monday, March 6, 2023 from 4:30pm - 7:30pm at the Pemberton and District Community Centre!
The Open House will include a presentation by the Village's planning consultants at 5pm with Small Group Discussions to follow. Presentation Boards (with interactive activities) will be on display throughout the evening for those who can drop by for a short time only.
This will be a family-friendly event and we invite everyone to get involved and welcome all feedback. There will be age-appropriate activities for youth to engage in. Babysitting will not be provided.


For more information and to RSVP, go to the OCP Review Facebook Event!
Other ways to get involved and have your say on Pemberton's future:
> Visit the website: haveyoursay.pemberton.ca/ocpreview
> Return your completed Kitchen Table Discussion Package to the Village office by 4pm, Friday, March 10, 2023.