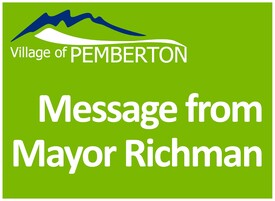 The last few months have seen some exciting initiatives move forward within the Village of Pemberton.
In Fall, we broke ground on the Pemberton Children's Centre Expansion project – a long awaited and exciting extension that will provide additional childcare spaces for Pemberton families. 
In January, we launched Phase 1 of the Official Community Plan (OCP) Review public engagement process culminating in a Community Open House event on Monday evening. I would like to thank everyone who made the effort to come down and get involved. The event was incredibly well attended, and I am excited to hear what you had to say. 
We know we live in a special place and the OCP Review is about how we protect and nurture everything that makes Pemberton so special. The goal is to create a vision for Pemberton that reflects the values and priorities of our community that will inform Council's decisions for the years ahead. The turnout at Monday's Open House event is a testament to how much the community cares and how engaged you are in Pemberton's future. That engagement will guarantee a strong outcome for this OCP Review.
I would love to see the energy we saw at Monday's OCP Review Open House carried into the Budget Public Information Session this Tuesday, March 14, 2023. At the Public Information Session, Village Staff will present the 2023 Budget followed by a public question time. Input from community members is vitally important to this process and so helpful to Council in making difficult financial decisions so I would like to encourage as many of you as possible to join the Session on Tuesday either in-person or virtually.
As some of you may already be aware, there has been some recent discussion about the relocation of the Nature Play Park. The current location of the Nature Play Park falls within the area designated for the Pemberton Children's Centre expansion project, so it's necessary to relocate the Nature Play Park to a new location. In the coming months, Village Staff will be launching a public engagement campaign on the Nature Play Park Relocation. I would encourage you to get involved and have your say so Council can make an informed decision on the new location of this important community amenity. 
Your input on these projects and initiatives is so valuable both to Village Staff, Council and to myself personally. I thank you all in advance for participating in these engagement opportunities and I hope together we can continue to make decisions that benefit our community for years to come.
Mike.