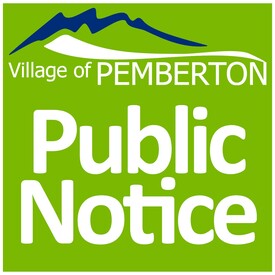 In accordance with s. 59 (2) of the Community Charter notice is hereby given that the Council of the Village of Pemberton intends to amend Business Licence Bylaw No. 855, 2018 at the Regular Council Meeting to be held on Tuesday, October 20th, 2020 at 9:00a.m.
What is the Business Licence Amendment (Housekeeping) Bylaw No. 890, 2020 about?
In general terms, the purpose of the proposed housekeeping bylaw amendment will be to:
Address minor changes to wording, of several definitions and clauses to improve clarity
Establishes a new Auxiliary Business Fee of $50 per location if doing the same business in more than one location
Amends and reduces the late payment fee if the Business Licence is renewed after January 31st
Removes the requirement to provide notice in writing of a business closure
What is the significance?
The amending Bylaw will improve and clarify several sections of the Bylaw and responds to feedback received from the Business community respecting the late payment fee.
How do I get more information?
Copies of the proposed Bylaw and relevant background documentation may be inspected at the Village of Pemberton Office, 7400 Prospect Street during office hours from Thursday, October 8th to Monday, October 19th 2020 and also available online at www.pemberton.ca.
How can I provide feedback?
All persons, who consider they are affected by the proposed Amending Bylaw, will be provided a reasonable opportunity to make representation to Council in writing. Written submissions must be addressed to "Mayor and Council", and must be received by, noon, Friday, October 16, 2020 to:
Email: admin@pemberton.ca
Fax: 604-894-6136
Hard Copy: Corporate & Legislative Services, P.O. Box 100, 7474 Prospect Street,
Pemberton, BC
Written submissions received for the proposed Bylaw Amendment will be included in the Agenda Package and will be available on the Village of Pemberton website at www.pemberton.ca