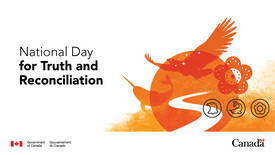 This Friday, September 30th 2022 is National Day for Truth and Reconciliation. A federal statutory day dedicated to recognizing the tragic history and ongoing legacy of residential schools. To commemorate, the Village of Pemberton Office and Recreation facilities will be closed.
The Village of Pemberton encourages the community to honour the survivors of the residential school system, the children who never returned home, as well as their families and communities. We encourage you to approach this day by learning about, recognizing and commemorating those impacted by the legacy of residential schools in Canada. We also encourage you to use this day to learn and explore the culture and contributions of the local Líl̓wat Nation and all Indigenous Peoples.
Some of the ways you can do this in our local community this week:
The Pemberton and District Public Library have an in-house display of recommended readings, established booklists for children and adults and have 50 copies of "21 Things You May Not Know About the Indian Act" to give away this week Monday – Thursday.
Visit the Lil̓wat7úl Culture Centre. Showcasing art, craft and language of the Líl̓wat people.
Visit the Squamish Lil'wat Cultural Centre from September 30th until October 2nd for a weekend of reflection and learning with free admission all weekend.
Wear Orange, showing your support for Orange Shirt Day an Indigenous-led grassroots commemorative day, raising awareness of the community and intergenerational impacts of residential schools and "Every Child Matters".
There are many resources available online, below are a small selection that our staff have personally taken time to learn from:
Public commemoration of the tragic and painful history and ongoing impacts of residential schools is a vital component of the reconciliation process. We hope you will join us.
If you are a Survivor or intergenerational Survivor and require support, you can access the Indian Residential School Crisis Line here: 1-866-925-4419.