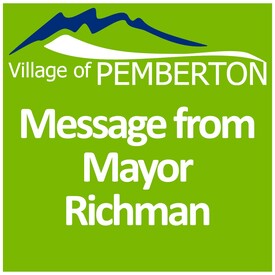 Somehow, the BC Day long weekend has managed to sneak up on me. July has come and gone, and here we are scurrying to fit in summer fun as the days tick by.
I'm pleased to say that we've been making some great progress with the Mayor's Task Force for COVID-19 Response and Recovery. Last week, we created two working groups to address the social and economic opportunities and challenges that the pandemic has presented us. The work of these groups will be heavily informed by your responses to the community question on the ThoughtExchange platform. If you haven't already, please share your perspectives at: https://my.thoughtexchange.com/254725730. As we start to put our plans into action, we will no doubt be leaning on the expertise and passion of those outside the Task Force as our response to this virus must be collaborative and community-inspired, based on understanding, mutual respect and a deep love for our community. We will be sharing more information on our next steps and collaboration opportunities very soon.
Keeping this in mind, let's enjoy this long weekend. Let's be understanding of those who choose to visit our beautiful valley because they may not feel safe to do so in an urban setting, let's be respectful of each other's space and choices, and let's show our love for our community by limiting our bubble, washing our hands and staying home when we are unwell.
Please, be safe this weekend.
Be in touch soon,
Mike