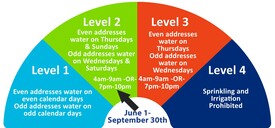 Please be advised that water restrictions go into effect on Monday, June 29th. Those with irrigation systems are reminder to adjust the watering schedule accordingly.
Why do we have water restrictions?
With population growth and climate change, there is increasing pressure on our water supply.
Water restrictions help to make sure we have enough treated drinking water for everyone during the dry summer months.
To view the Watering Restrictions Bylaw visit: https://www.pemberton.ca/…/sprinking-and-watering-restricti…