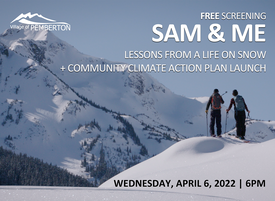 Join us for a special screening of Switchback Entertainment's Sam & Me - Lessons From a Life on Snow. Learn about the Village's Community Climate Action Plan and find out how you can help reduce Pemberton's impact.
Wednesday, April 6, 2022 | 6pm
Pemberton and District Community Centre
7390 Cottonwood St, Pemberton
Registration required. Visit, pemberton.ca/ccaplaunch to register.
Donations to Protect Our Winters Canada are welcome at the door.