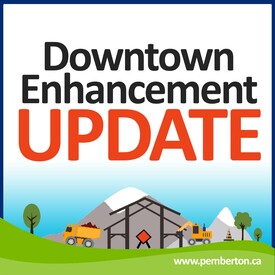 It was an exciting day for our downtown, as the first lift of asphalt was laid on Prospect and Aster Streets, and a portion of Frontier Street South. A big thank you to our businesses and their patrons for being so patient during the roadworks over the last few weeks.
This week, the following was completed: 
Sidewalks and curbing were poured on Prospect, Frontier and Aster Streets
Soil cells installed in front of the Pemberton Valley Supermarket
Pave drains installed on the south half of Frontier Street South parking lot
First lift of asphalt laid on Aster, Prospect Streets and south half of Frontier Street.
Sidewalk pavers have been installed on Aster and Frontier Streets
Coming Up for this weekend to July 31st:
Curbing around the supermarket and northwest Birch Street
Pour concrete for second half of west let-down and half of the north let-down at AC Gas early next week (corner of Prospect and Birch Streets)
Pour concrete for Spud Valley access early next week
After July 31st, the crews will go home for six days and return on August 6th. Frontier Street South will be opened in entirety for the long weekend.

Once crews return on August 6th, they will be focusing their efforts on completing the northern portion of Frontier Street South (Frontier Street South @ Birch). This work will include installing the second detention pond and pouring curb/gutter and sidewalks on the east side.  

Plan ahead for delays! Be sure to give yourself extra time to get around downtown. Please follow the directions of our traffic control personnel.

Remember that our downtown businesses are open during the construction! Please support our downtown businesses when you can.

Questions about the Downtown Enhancement Project?Contact us at projects@pemberton.ca.