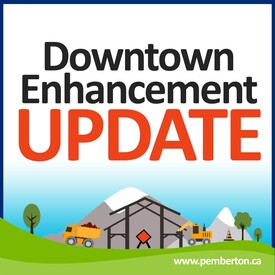 This week, we will see lots of activity and little glimpses into our future downtown!
Yesterday, crews began excavating for the soil cells yesterday in front of the Pemberton Valley Supermarket. This included the removal of some trees, that unfortunately, due to the weather/time of year, were not likely to survive being transplanted.
Today, the sidewalks on Prospect Street will start to be poured. Once Prospect Street is finished, the remainder of Aster Street sidewalks will be completed. It is anticipated that the sidewalk works will be completed by Thursday. Please note, that the sidewalks take approximately 8 hours to cure, so please refrain from walking on the sidewalks until the delineators have been removed. The driveway to RONA Pemberton Valley Hardware (from Prospect Street) will remain closed for up to five days to allow this area to cure.
On Thursday, crews will also start to lay the first lift of asphalt on Prospect, Aster and Frontier Streets. It's anticipated the asphalt works will continue into Saturday (dependent on weather and asphalt supply). Be sure to watch the Village's Facebook page for traffic pattern updates during the asphalt works.
Questions? Get in touch with us! Send us an email to projects@pemberton.ca.