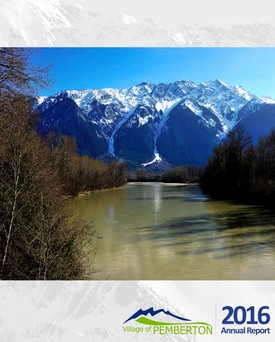 The 2016 Annual Report is now available! 
What's in the Annual Report?
2016 Reporting, including a summary and status update of capital projects and costs, grant application and Village initiatives. Submissions and questions on the 2016 Annual Report may be submitted in person at the Regular Council Meeting on Tuesday, June 20th or via email (admin@pemberton.ca) or by mail (Box 100, 7400 Prospect Street, Pemberton BC V0N2L0) in advance and prior to 4pm on Monday, June 19th, 2017. Please address your correspondence to Mayor and Council.
Download the 2016 Annual Report
Questions? Contact the Village Office at 604.894.6135 or admin@pemberton.ca.