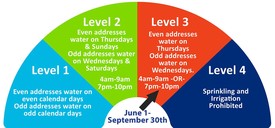 Due to the cooler weather and the community's collective reduction in water use, the Village has returned to Level 3 Water Restrictions; however restrictions are still in place for car washing.
What does this mean?
• Designated Watering days/times apply to LAWN/SOD SPRINKLING only
• Watering your veggie, flower gardens, and lawns BY HAND (meaning, using a hose with a nozzle), soaker hose or drip/micro irrigation system is permitted at ANYTIME and does not have to take place within the restriction times.
• Washing sidewalks, driveways, roofs, outdoor surfaces or motor vehicles by garden hose is prohibited
• In-Ground Irrigation systems for lawns is only permitted during the designated days between 10pm and 4am
Fast Facts about Water Usage:
• In the summer months, the Village's average daily consumption is 3000 m3 (that's two reservoirs of water or 900,000 gallons!). During the fall, winter and spring months, our average daily consumption is 1500 m3. 
• Water restrictions aren't just about water conservation. When our water use increases, our pumps and infrastructure work a lot harder too, which significantly increases the Village's hydro bill which can have an impact on utility rates. In April 2017, our hydro bill for water infrastructure was $4,123. In July, our hydro bill for water infrastructure was $6,089.
Thank you for your assistance in helping us reduce our water use, and reducing strain on our water system.
Questions? Call us at the Village Office (604.894.6135) or email us (admin@pemberton.ca).