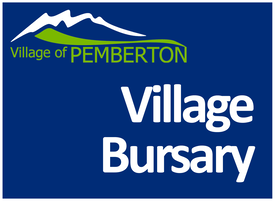 The Village of Pemberton Bursary is now open for applications!
The Bursary is a financial award of $3000 which recognizes students who demonstrate outstanding citizenship, leadership, volunteerism and who intend to pursue post secondary education.
To be eligible, students must fulfill the following criteria:
be a resident of the Village of Pemberton
be graduating from Pemberton Secondary School the year of application
be entering part-time or full-time first-year studies at a post-secondary institution
demonstrate leadership, involvement in extra-curricular and community activities, and sound academic record.
Applications close Saturday, April 30, 2022.
For more information or to apply, visit the Funding Opportunities page.