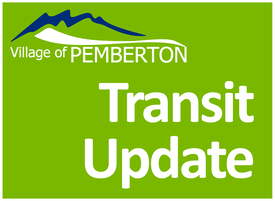 Following the successful ratification of a new labour agreement between Unifor Local 114 union operating under Whistler Transit Ltd and Diversified Transportation, BC Transit have today announced that services in the Whistler, Squamish and Pemberton Valley transit systems will resume on Wednesday, June 22.
To welcome customers back on board, the Village of Pemberton, Resort Municipality of Whistler and District of Squamish are offering free transit to riders until at least July 3.
BC Transit encourages customers to sign up to receive alerts for their specific transit system at bctransit.com/whistler, bctransit.com/squamish and bctransit.com/pemberton-valley.
To read the full BC Transit announcement, visit bctransit.com/pemberton-valley.