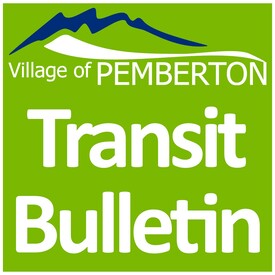 Transit Bulletin | Frontier Street Bus Stop Relocation at of May 1st
Due to the upcoming downtown enhancement works on Frontier Street, the downtown transit stop on Frontier Street will be temporarily relocated to the northside of Camus Street at Frontier Street as of May 1st and continue throughout the duration of the Frontier Street works.
Schedule and route information for Pembeton Valley Transit can be found at: https://bctransit.com/pemberton-valley
Questions? Contact the Village Office at 604.894.6135 or admin@pemberton.ca.