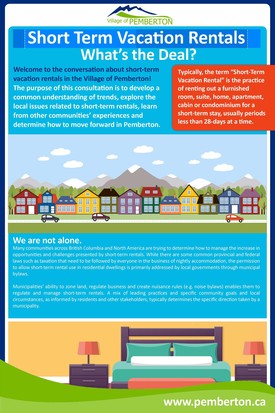 The Village of Pemberton is in the midst of updating its Zoning Bylaw and like many communities across Canada, is looking to create zoning regulations pertaining to short term vacation rentals given recent community concern with respect to the accommodation 'sharing economy'.
The Village sought support from the Whistler Centre for Sustainability with community engagement on the short term rental accommodation issue (rentals of less than 28 days), and the outcome is this report of the consultation results and possible routes forward the Village of Pemberton may want to contemplate.
During this engagement the Village wished to build a common understanding of the issues; understand short term rental approaches from other communities; gather community feedback; and understand how to maintain or adjust policy.
Read the Short Term Vacation Rentals Engagement Summary for results from the community consultation.
To learn more about the engagement process and purpose, click here.
Questions?  Contact Lisa Pedrini, Senior Planner at 604.894.6135 x234 or by email.