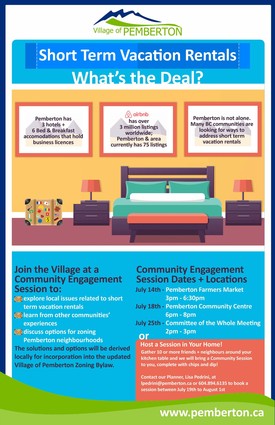 Join the Village at a Community Engagement Session to:
explore local issues related to short term vacation rentals
learn from other communities' experiences
discuss options for zoning current + future Pemberton neighbourhoods
The solutions and options will be derived locally for incorporation into the updated Village of Pemberton Zoning Bylaw.
Upcoming Community Engagement Sessions:
July 14th - Pemberton Farmers Market 3pm-6:30pm
July 18th - Pemberton Community Centre 6pm-8pm
July 25th - Committee of the Whole 2pm - 3pm
OR, Host a Session in your home!
Gather 10 or more friends + neighbours around your kitchen table and we will bring a Community Session to you! Contact our Planner, Lisa Pedrini, for more info at 604.894.6135 x234 or lpedrini@pemberton.ca.