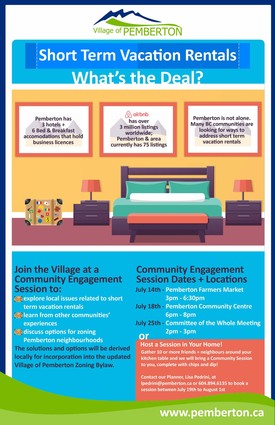 Join the Village at the Pemberton Community Centre on July 18th (6pm-8pm) to:
explore local issues related to short term vacation rentals
learn from other communities' experiences
discuss options for zoning Pemberton neighbourhoods
The solutions and options will be derived locally for incorporation into the updated Village of Pemberton Zoning Bylaw.
Download the below briefs for more information:
Questions?  
Contact Lisa Pedrini, Planner, at 604.894.6135 x234 or lpedrini@pemberton.ca.