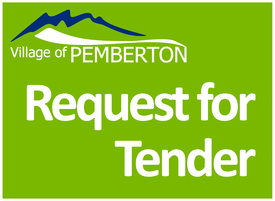 The Village of Pemberton invites qualified proponents to submit a tender to undertake the installation of standby generator at wellhouse along Aster Street.
The works include the following items, but are not limited to:
General Site Grading & Prep
Construct Structural Concrete Slab
Gravel Surfacing
Install Fence
Install Standby Generator and Electrical Systems
Submissions must be received no later than 2:00pm PST on Wednesday, May 19th, 2021.
Tenders must be submitted electronically to:
Tom Csima
Manager of Operations & Projects

Email: tcsima@pemberton.ca
All technical inquiries regarding the Contract are to be directed to:
Graham Schulz, P.Eng.
Contract Administrator
ISL Engineering and Land Services Ltd.
Email: gschulz@islengineering.com
Phone: 604-815-4646
All general inquiries regarding the Contract are to be directed to:
Tom Csima
Manager of Operations & Projects

Email: tcsima@pemberton.ca
Phone: 604-894-6135 ext. 240
Tender Documents
Pemberton Wellhouse Generator Installation - Tender Package
Pemberton Wellhouse Generator Installation - Drawing Package