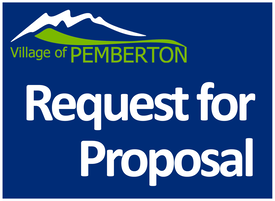 The Village of Pemberton (the Village) is inviting qualified proponents to submit a proposal to operate a non-motorized Watercraft Rental Concession at One Mile Lake Park that will enhance the Park's recreational experience and align with the concepts recommended in the 2016 One Mile Lake Park Master Plan. A five-year term commitment is required, with the option for a subsequent three-year renewal.
Submissions must be received by the Village of Pemberton no later than 4:00pm PST on Tuesday, April 27, 2021.
Proposals may be submitted via email to cburns@pemberton.ca or in hard copy form to:
Village of Pemberton,
PO Box 100, 7400 Prospect Street,
Pemberton BC, V0N 2L0
Proposals should be in a sealed package unless Proposal is in email format, marked "CONFIDENTIAL RFP-2021- 06 (Non-Motorized Watercraft Rental Concession Licensee, One Mile Lake Park)".
All inquiries should be directed to:
Christine Burns, Manager of Recreation Services
Phone: 604.894.2340
Email: cburns@pemberton.ca