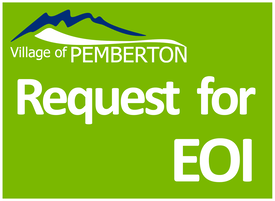 The Village of Pemberton is inviting interested and qualified proponents to submit expressions of interest to manage and operate mobile food carts at four specified locations within the Village as part of the Mobile Food Vendor Pilot Program for the summer of 2021.
Applications must be received before 4pm PST on Friday, May 28, 2021 to be considered in the first round. Late submissions will be accepted while locations and dates remain available.
Applications may be submitted by email to admin@pemberton.ca, by mail to Box 100,
Pemberton, BC V0N 2L0, or by hand delivery to the Village office located at 7400 Prospect Street, Pemberton, BC V0N 2L0.
All inquiries should be directed to:
Sheena Fraser
Manager, Corporate & Legislative Services
Email: sfraser@pemberton.ca
Phone: 604-894-6135 ext. 228
Download the Request for Expressions of Interest document