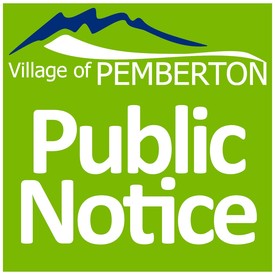 Meeting to Consider a Variance
Tuesday, November 27th
9am
Council Chambers, 7400 Prospect Street
Notice is hereby given in accordance with section 499 of the Local Government Act RSBC 2015 that the Village of Pemberton will consider issuing a variance to the Zoning Bylaw No. 832, 2018, at the Regular Council Meeting scheduled for Tuesday November 27th 2018 commencing at 9am in Council Chambers, 7400 Prospect Street, Pemberton, BC.
Why a Variance Request?
The purpose of the request from the property interest is to vary the Pemberton Zoning Bylaw No. 832, 2018, Section 15.3.6 Building Regulations to relieve the proponents of the maximum height requirement of 10.5m to allow for a covered stairway on the roof.
Where is the subject property?
The variance request considers property located at 1422, 1426, 1430 Portage Road, having the legal description of Lots 1-3, DL 203, LLD, Plan 12595.
How do I get more info?
A copy of relevant background documents and the Development Permit under consideration may be inspected at the Village of Pemberton Office, 7400 Prospect Street from Monday November 19th to Tuesday, November 27th during regular office hours (8:30am – 4:30pm), Monday through Friday and also online at www.pemberton.ca. For more information contact Lisa Pedrini, Senior Planner at 604-894-6135 (ext. 234) or lpedrini@pemberton.ca.