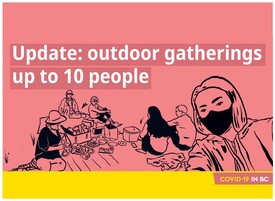 The Public Health Officer (PHO) is amending the gathering and events order. Up to 10 people may now gather outdoors. All restrictions for indoor gatherings remain in place.
For example:
Up to 10 people may gather at a park or beach
Up to 10 people may gather in the backyard of a residence
No gatherings of any size are allowed indoors
Do not gather with several groups of new people – stick to the same people. Continue to use COVID-19 layers of protection and maintain physical distancing.
For more information, visit BC's Province-wide Restrictions webpage.