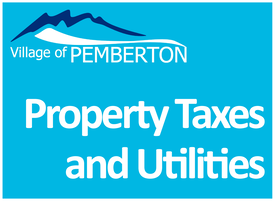 A reminder that outstanding property taxes and utilities are due Saturday, December 31, 2022. 
Visit pemberton.ca/propertytaxes for ways to pay.
If you are eligible for the 2022 Home Owner Grant and have not applied, you can apply online at gov.bc.ca/homeownergrant or call 1 888 355 2700.
The last date to make a payment in person at the Village Office is Friday, December 23, 2022, by 12pm. Please allow sufficient time for delivery by mail as your payment must be received by the Village by Saturday, December 31, 2022 (postmarks are not considered as date of payment).
Alternatively, pay by credit card online at payment.optionpay.ca/village-of-pemberton. Online bill payments are also available through most financial institutions - check with your bank for details.
If you have any questions regarding your property tax notice, please contact the Village office at admin@pemberton.ca.