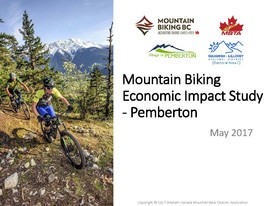 At the May 2, 2017 Committee of the Whole Meeting, the Mountain Bike Tourism Association presented their findings and final report of the Economic Impact Study for Mountain Biking in Pemberton.  
Download the Mountain Biking Economic Impact Study for Pemberton
Background
The Mountain Bike Tourism Association (MBTA), in partnership with the Canadian Sport Tourism Alliance (CSTA) surveyed mountain bikers to gather data to prepare an economic impact study of mountain biking in the Sea to Sky Corridor, including the communities of North Vancouver, Squamish, and Pemberton. The CSTA, working with Tourism Whistler and Whistler / Blackcomb, prepared studies of the Whistler trail system, the Whistler Bike Park and Crankworx in 2015.
Together, these studies provide an update to the 2006 economic impact of mountain biking in the Sea to Sky Corridor (the results for the entire Corridor are found in a separate report). Since 2006, mountain biking has experienced pronounced growth in the region. The 2016 research clearly demonstrates that the Sea to Sky Corridor is now a world-class mountain biking destination, attracting regional, national and international mountain bikers who travel to the region specifically for riding.
This document reports the findings from surveys conducted in Pemberton. Note, data was not collected in Pemberton in 2006, so no tracking data is available.
Survey data was collected via in-person intercepts at 3 primary locations in Pemberton: Happy Trail entrance, One Mile Lake, and Mackenzie FSR (dropped part way through due to lack of volume) from July 8 to August 29, 2016. Interviewing shifts were staggered and covered morning, mid-day, and early evening throughout the summer on both weekdays and weekends. A total of 210 surveys were conducted.