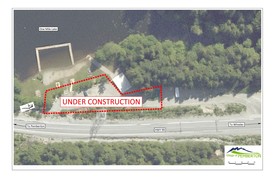 Works are beginning at One Mile Lake Park to improve the main beach and parking area.
The scope of the project will include:
improving draining in the beach area
relocating the trail from the middle of the beach to the western edge of the former lower parking lot to separate the uses and avoid conflicts between cyclists, pedestrians and beach visitors
closing lower parking lot and convert to green space
installing emergency access/turnaround at lower parking lot
As a result, the lower parking lot and grass area will be closed to public access for 6-8 weeks to complete the works.
This project is part of the One Mile Lake Park Master Plan which sets out a ten year strategy for the Village that provides the framework for decisions related to Park development and management to ensure that the community's vision for the Park is being attained.
Learn more about the One Mile Lake Master Plan.
Questions? Contact Tim Harris at tharris@pemberton.ca or at 604.894.6135.