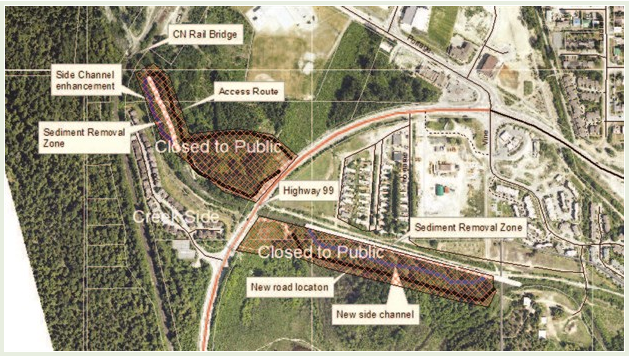 Long term gravel accumulation in Pemberton Creek has led to problems with bank erosion, reduced drainage of adjacent lands, and an increased threat of flooding.  A large amount of sedimentation was deposited by a flood that peaked on September 20, 2015.  Subsequently, a culvert became buried; preventing drainage through the dyke, and the PVDD conducted emergency bank protection work along a portion of the dyke.
Recent surveys show that Pemberton Creek filled in considerably downstream of the railway bridge, extending past Underhill Bridge.  Sedimentation has significantly reduced the channel capacity in the reach between the railway bridge and the Highway 99 Bridge.
To address the accumulation of sediment and restore the integrity of the dyke system adjacent to Pemberton Creek, Pemberton Valley Dyking District will be conducting sediment removal and relocating the road that leads to the Nature Centre from Highway 99.  The works will result in the removal of a limited number of cottonwood trees in the work area.
To complement the dyke system works, a creek diversion channel will be added which serve as a diversion channel during gravel removals in the main channel and spawning habitat for salmon.
Please note, there will be moving closures in the work area (see below map for defined work areas).  However, access to the lake via Pemberton Creek Bridge and gravel foot trail will not be affected.    Please remain a safe distance from the construction area.  Closures will be clearly marked.
Estimated construction schedule is as follows:
Week of August 15th - Mobilize and relocate road to Nature Center
Week of August 22nd - Construct side channel by Nature Center
Week of August 29th - Construct side channel and remove gravel behind Creekside and finish side channel by Nature Center
Week of Sept 5th - Remove Gravel below highway 99 by Nature Center and demobilize.
All questions regarding this project can be directed to the PVDD office at 604 894-6632 or email trustees@pvdd.ca