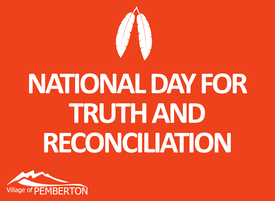 Today marks the inaugural National Day for Truth and Reconciliation. This federal statutory holiday is a chance for us to commemorate the history and ongoing trauma caused by residential schools in Canada. It provides an opportunity for us, as Canadians, to honour those who were lost and the survivors, families and communities who continue to grieve.
We would like to encourage Pemberton residents to use this day to recommit to understanding the truth of our shared history. To recognize that the country we call home, came to be through systems and institutions that instilled and continue to uphold racism against Indigenous peoples.
Use this day to listen, to read and to learn. Set the intention to help heal our country and support our Indigenous family, friends, loved ones, and neighbours. Take time to consider what we as individuals can do to advance reconciliation with Indigenous peoples, and help create a better and more inclusive community in Pemberton and beyond.
Resources and Links
Ministry of Indigenous Relations and Reconciliation
National Centre for Truth and Reconciliation
Wawahte - Stories of Residential School Survivors
Indian Residential School Survivors Society