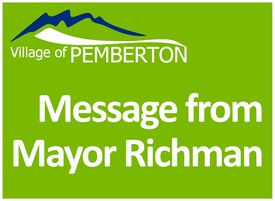 Here it is. Just when we thought our COVID outlook was getting better, we are watching it come closer to home. As the cases creep up the highway, we're experiencing a heightened sense of alarm in our rural paradise. At the same time as we're seeing vaccination rollouts across the province and within our region, we're seeing the pandemic's effects closer to home.
As we continue here, in this space together, let's be aware of our language and acknowledge our sadness and fear. People are scared. When people are scared, there can be a tendency to shame and blame. Although this puts distance between 'us' and 'them' it can lead to increased isolation and risk as people feel they have to hide. I am hopeful that as a community we can be aware of this and work hard to express compassion and solutions rather than blame and shame.
On one hand we are seeing an increase of local cases. On the other hand we are starting to see light at the end of the tunnel through vaccination. On one hand we are tired, very tired. On the other hand we have community, space and thoughts of spring in the not-so-distant future. It is important to spend time acknowledging all of this.
There has been an increase in cases and we've seen up close how small, supportive communities can suppress transmission effectively as our neighbours at Líl̓wat Nation have done so well. We are in constant contact with Vancouver Coastal Health and our local doctors and while I know people are anxious for more information regarding case numbers, these are not figures that are provided to the Village.
The message is the same and it's more important now than ever: keep your bubble tight, mask up and stay home. We are all so tired. It's ok to be fed up but we must carry on. And we will. All of us, together.
Mike.