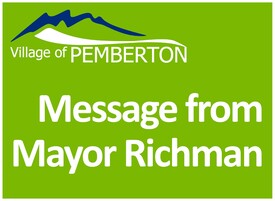 It has been a busy winter for me and a while since I last wrote a message to you all.
As we slowly emerge from the darkness of the COVID-19 pandemic, normalcy seems within our grasp. But we have some rebuilding to do - as a society, a community and as individuals.
It's nice to be able to share some good news though – the Village has appointed a new CAO! Elizabeth Tracy will assume this role as of Monday, June 13, 2022. Elizabeth comes to us with many years experience in senior leadership roles within the Sea to Sky corridor and is passionate about cultivating a vibrant and dynamic community. We can't wait to have her on board.
We have had some other exciting announcements of late too – there is light at the end of the tunnel for child care in Pemberton with the announcement of funding for the expansion of the Pemberton Children's Centre.
We also now have a plan in place to reduce our GHG emissions as a community - the Community Climate Action Plan was launched on April 6, 2022, providing a way forward for us to meet our GHG reduction targets.
As we head into a busy summer, the future looks brighter all the time (both literally and metaphorically). Let's move forward as a community and focus on rebuilding together.
Mike.